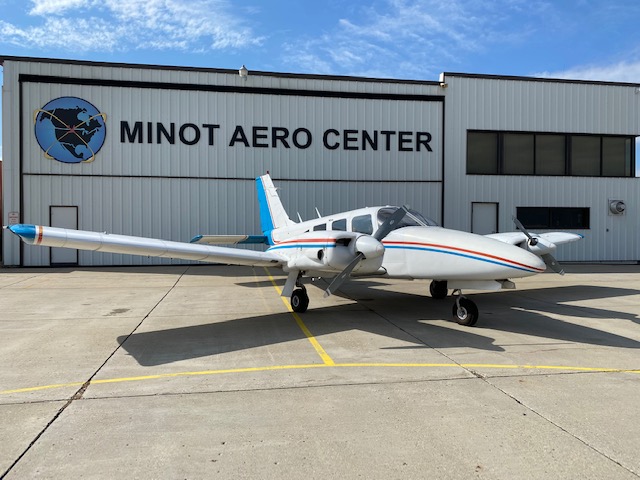 We have added a Piper Seneca to our rental aircraft fleet! We currently have 7 rental aircraft available at the Minot Aero Center. (1 Cessna 150; 2 Cessna 172s; 2 Piper Warriors, 1 Mooney, and 1 Piper Seneca).
We are now offering multi-engine instruction at the Minot Aero Center. If you are looking for something bigger to fly this is it! The plane has 6 seats and a cargo area for baggage.
Are you already a pilot? You can add on a multi engine rating; you could get checked out in the aircraft and fly it solo to build multi and complex time for those interested in a career in the airlines and don't want to go to college to achieve that goal.
If you are not already a pilot but dream of becoming a professional pilot…Start with one of the single engine aircraft we have on our rental lineup. We offer everything you need to achieve your aviation goals right here in Minot. We offer flight instruction to achieve your private pilot certificate all the way up to your multi-engine ratings. We have a FAA approved testing center to achieve all of your written exams; we have a Designated Pilot Examiner (DPE) onsite to achieve all of your check rides right here in Minot. You can achieve every step of your aviation goals, right here at the Minot Aero Center.