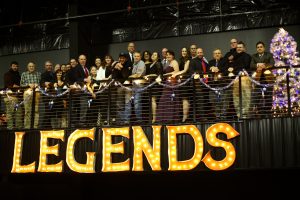 Management
Warren Pietsch
Warren began flying at a young age and soloed on his 16th birthday. In 1980 Warren joined his father Al and brother, Kent in the Air Show industry performing at shows across the U.S. and Canada. In addition to flying Air Shows, Warren was a captain for a major airline for 20 years flying Lockheed 1011, B-727, B-737's worldwide. Warren has accumulated over 26,000 hours of flight time in aircraft ranging from gliders, J-3 Cubs, antique aircraft and vintage WWII aircraft.  Warren continues to operate the family business his father began in 1957. Pietsch Aircraft Restoration & Repair, Inc. is located in Minot, ND. They offer flight instruction including both glider and power aircraft. The shop crew remains busy rebuilding several antique aircraft, maintaining customer aircraft, and engine work. Warren & Brian started the Minot Aero Center together and opened it's doors for operation December 31 2009 and it has been growing ever since. Warren and his wife Jolene have two children and make their home in the country, southeast of Minot.
Brian Sturm
Brian came from a aviation family and started working with a crop dusting business at the age of 17 working his way up to be a pilot in 1986.   He moved on to Spraying in Parshall North Dakota until he started his own crop dusting business called Pioneer AgViation in 1997.  He has run Pioneer AgViation out of Minot and several other cities around North Dakota during each summer season.  In his off season time Brian ran the 135 charter operation out of Pietsch Aircraft.  Brian flew cargo and also doctors around the region while operating the charter program.   Brian and Warren have worked together since 1997, but became partners in 2009 where they planned and opened the Minot Aero Center together.   Brian also owns several other business.
Shelley Cole
Shelley started his aviation career on the commercial side of things working for Frontier Airlines in 1977.  He continued his growth in aviation with Northwest airlines and became a supervisor in 2006 among many other tasks and skill he acquired.   In 2009 Shelley made the move to the private side of aviation with Warren and Brian's new venture.  Shelley became the Line Manager in 2009 and has been with the company ever since.  Shelley's son is a pilot staying in the aviation career field as well.